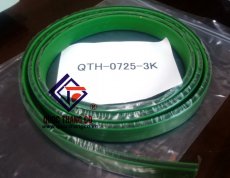 Hydrotite QTH-0725-3k
Ourlong time experience made us developed advanced Hydrotite products coated with special coating, which is called QTH.
CALL US 0913 404 017 - 0985 406 777 NOW
1. SUPERIOR WATER SEALING
2. EASY HANDLING AND INSTALLATION
3. CONTROLLED EXPANSION PROPERTIES
4. VARIOUS PRODUCT RANGE
5. EXPANSION ONLYWHEN IT'SREQUIRED
The special coating, which is dissolved by alkaline water contained in concrete, minimized premature expansion by ground water or rain water before 2nd concrte is poured.
This function is very helpful for installation in the reasons where often have a rain shower or snow.
Waterstop Material