Polydek - liquid-applied waterproofing membrane
CALL US 0913 404 017 - 0985 406 777 NOW
Polydek is specially formulated to seal, decorate and simultaneously waterproof exterior surfaces in a two coats application. It may be applied by brush, roller or airless spray.

Area of applications:
- Walls
- Concrete slob roof
- Roof terraces
- Asbestos roofs
- UAC roofing sheets
- Planter boxes
- Bathrooms
- Laundries
- Gutters
- Drains
- Brickwork
- Fibre cement board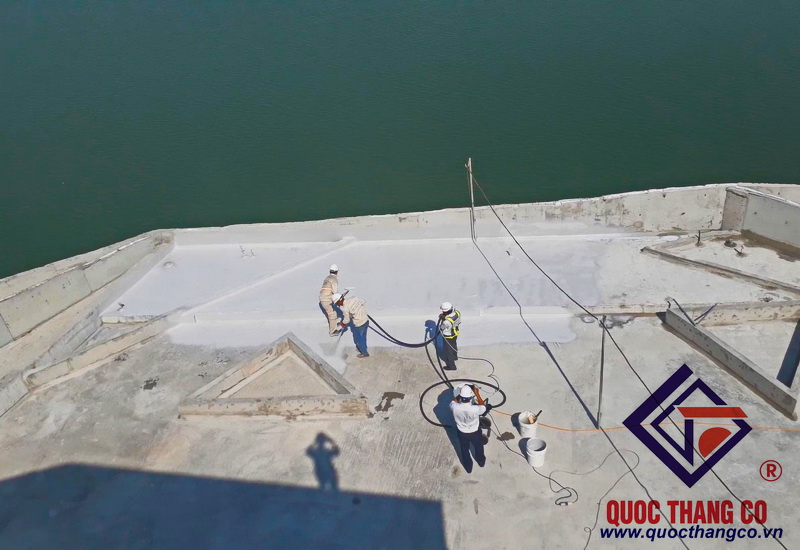 ADVANTAGES:
Ease of application
Easily applied by brush, roller or airless spray. Surfaces can be damp or moist when applying Polydek.
Solvent-free
Polydek poses no problems to workers during application in enclosed areas because Polydek does not emit solvent fumes.
Ease of maintenance
When maintenance is required after 5-10 years, the membrane surface can simply be cleaned and re-coated with a refresher or second top coat.
Hairline cracks
Polydek bridges and seals non-moving hairline cracks with fibre mesh.
Vapour permeable
Coatings of Polydek allow two-way vapour transmission to release moisture and reduce efflorescence due to rising damp.
Weather Resistant
Polydek has good weather ability and excellent resistance to ultraviolet degradation.
Traffic Ability
Polydek can withstand regular foot traffic.
Advantages over Sheet Membrane Systems
Polydek can be brush-applied to angle fillet and skirtings as well as to contours and irregularly angled surfaces. This circumvents the problem of measuring and cutting the sheet membrane to be torched onto the said areas.
Polydek does not require honeycombs or hairline cracks in the concrete to be hacked, patched or grouted; unlike when using a sheet membrane system.
Advantages over Solvent-Based Systems
Problems of bubbling or pinholes are greatly reduced when using the water-based Polydek system because the moisture present in the membrane allows bubbles to escape.
Waterproofing Material