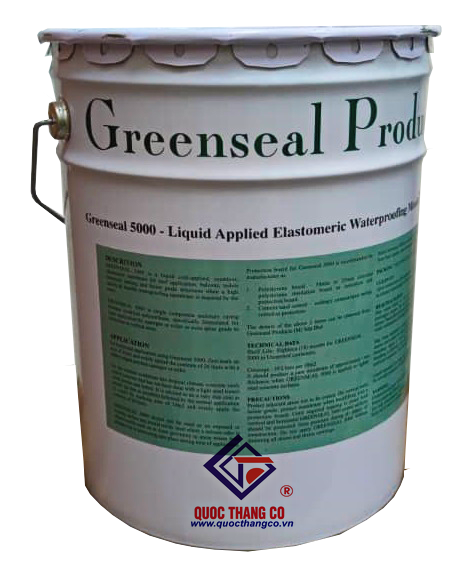 Greenseal 5000 - is a liquid membrane bitumen has like rubber feature
DESCRIPTION
Greenseal 5000 is a liquid membrane bitumen has like rubber feature, it is waterproofing system ideally used between slabs to protect them against the penetration and lateral movement of water. Greenseal 5000 waterproofing membrane is a cold applied, seamless, elastomeric single component moisture curing bitumen modified polyurethane, specially formulated for hand application by using squeeze or roller to vertical or horizontal surface. It should be applied directly from the container (liquid application). It is designed especially for use as a flexible continuous waterproofing membrane between two-course concrete, between masonry construction and bituminous toppings and also for exterior below grade waterproofing of masonry.
CALL US 0913 404 017 - 0985 406 777 NOW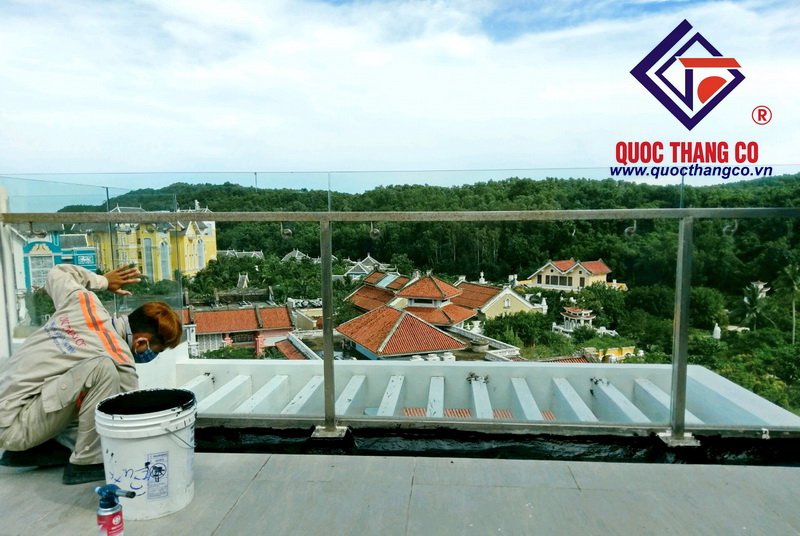 USES
• Parking garages
• Pool decks
• Roof Top
• Shower stalls
• Mechanical rooms
• Fountains
• Bridges
• Highways
• Balconies
• Below grade slabs
• Culverts
• Around drains
• Dams
• Reservoirs
• Concrete tanks
PRODUCT PROPERTIES
Tests

Test Results

Standard

Shore A Hardeness

31

ASTM D-2240

Tensile Strength, Mpa

>2.0

ASTM D-412

Elongation, Percent, Avg.

>800%

ASTM D-638

Puncture Resistance, average

34 N

ASTM E-154

100% Modulus, Mpa

1.6

ASTM D-412

Adhesive to Concrete. Mpa

(Pull-off Adhesive Test- applied on concrete)

0.9

(Cohesive B)

ASTM-D-4541

Moisture VaporTransmission

Perm. Inches/mm2/24h

0.000248 grains

ASTM-E 96

Crack Test

1/16 inch, Cycled

10 times/24 hours@ 15 F

No Loss of Bond

or Cracking Exhibited

Crack Bridging Test

Original
After contact in the following Chemical for 72 hours

i) 0.5% (w/v) NaOCl

ii) 1.25% (w/v) NH4OH

iii) 3.7% (w/v) HCl

No cracks

No cracks

No cracks

No cracks

(Able to bridge crack

up to 2mm in width)

Viscosity

20,000 cPS ±10%
* Results shown are typical but are not intended as performance criteria for on-site installed material.
ADVANTAGES1. Inherent membrane flexibility
• Permits nominal expansion and contraction without losing bond to substrate
• Durable and remains elastic at extreme temperatures
2. Creates a seamless and continuous protective membrane
• Effective water and vapour proofing system
3. Chemically impervious barrier
• Resistant to acids, alkalis and salts
• Not susceptible to bacteria attack
4. Wide range of curing temperature
•From -4°C to 82°C
5. Irreversible chemical curing
• Membrane remains intact after curing even when exposed to elevated temperatures
6. Seal Crack
• Prevents new concrete from cracking
• Able to rehabilitate cracked surfaces by sealing cracks up to 2mm wide
7. Ease of application
• No special tools or equipment required
8. Anti Root
• By forcing the root to travel elsewhere
• Prevent future root growth while effectively stopping infiltration.
APPLICATION INSTRUCTIONS
Usage norms : 1kg – 2kg/m2
SURFACE PREPARATIONS
Surface preparations are required before using Greenseal 5000.
Thoroughly clean concrete surfaces free of oil, grease, paint and loose dust, mud and laitance and hose down concrete surfaces thoroughly. For best results, all concrete deck surfaces should be lightly steel troweled to a fairly smooth finish. New concrete must be water cured, at least 14 days old and the surfaces must be dry.
Static Joints and Cracks:
Joints and cracks less than (2.0mm) should be filled by pre-striping. The material should be applied to both fill and overlap the joint or crack to a width of 4" (100mm) on each side.
Working or Expansion joints:
All such joints over (2.0mm) wide must be sealed with sealant. Care however, should be taken to prevent the waterproofing membrane from adhering to the joint sealant. This could cause sealant or membrane failure. Such adhesion can be prevented by applying a coat of liquid household wax over the cured sealant, and pre-striping as above. Joints treated in this fashion will function independently of the overall waterproofing system.
Metal Preparation:
All metal should be wire brushed or sandblasted to bright metal and then primed with Primer prior to application of GS 5000.
Vent, Post Penetration and Drain Pipe:
Clean metal surfaces to bright metal and prime. Remove dust, debris and any other contaminants from voids. Seal with MQT 350, as previously indicated. GS 5000 will adhere to PVC pipe without priming.
Treatment to Honeycombing and Void:
All honeycombing form-tie and void detected must be plugged with MQT350 grout prior to the application of GS 5000.
For treatment to cold joint between floor slab where vertical walls meets slab, the area shall be pre-stripped to 100mm wide on the slab of the concrete and 100mm on the vertical wall. The final membrane is applied at the corner between the walls and slab.
MIXING
• No mixing is required.
CURING
The freshly applied GS 5000 shall be protected from direct rain, dirt, oil, grease or other loose particle for at least 12 hours. It is foot trafficable after 24 hours and resistant to light mechanical stress after 3 days. Permanent water pressure resistance shall be achieved after a full hardening of 7 days.
CLEANING EQUIPMENT
Upon completion of the application, tools and equipment should be cleaned immediately with Greenseal Reducer.
STORAGE AND SHELF LIFE
Greenseal 5000 has a shelf life of 12 months. Keep containers tightly closed and away from ignition sources. Do not expose it to direct sunlight or leave it too long in the open air.
A thin layer of skin coat may occur after content is long exposed to the air. However, this can be easily removed and the rest of the content can be used.
POT LIFE
Greenseal 5000 can be used up to 3 months once the packaging is opened. Protect from heat and frost.
PACKAGING AND APPEARANCE
• 20 litre pail
• Colour: Black bitumen
PRECAUTION
• Bubbling may occur if apply on substrates that are wet.
• Greenseal 5000 should not be used as exposed or wearing surfaces.
• Greenseal 5000 should not be used where a solvent odour is objectionable such as in close proximity to areas where food preparation or processing take place during the time of application.

HEALTH, SAFETY AND CLEANING
It is recommended that the applicator wears a safety goggles and gloves. Avoid prolonged contact with exposed skin, and keep away from mouth and eyes. In case of skin contact, wash areas with soap and water. If contact with eyes, rinse thoroughly with clean water. Seek medical attention immediately if irritation persists.
Waterproofing Material