MEMBRANE GUARDS BASEMENT
PREPRUFE 300R & 160R
MEMBRANE GUARDS BASEMENT
Membrane adhesion completely before going into the structural concrete basement floor and walls used for tunnels without space construction.
CALL US 0913 404 017 - 0985 406 777 NOW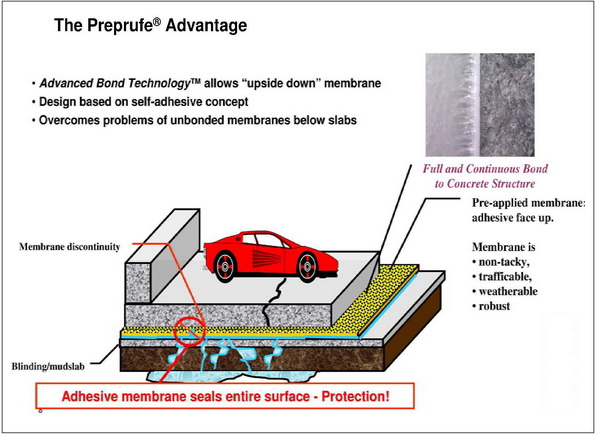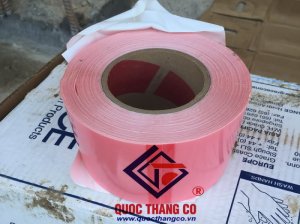 I- ADVANTAGES:
- Create the wrapper and stick entirely with concrete poured over it. This will prevent water penetration and helps to not be affected by ground subsidence, if any.
Adhesion completely in the details and junctions closed.
Create a barrier of water, steam and gas - separate structure from the surrounding soil.
- Quality Certificate for BBA basement level 2, 3 & 4 to BS 8102:1990.
- The conductivity of water vapor equal to 0 for.
- Reflective heat - reducing the temperature rise.
- Construct simple and fast and does not need lining (primer) or beveled corners (fillets).
- Open up the space for the tunnel construction membranes before and do not need less space after placing.
- Self-protection - can travel on the film as soon as the cover and construction of reinforced immediately.
- Can be constructed in the wet conditions, less affected by weather factors.
- Water resistant completely unaffected by:
+ Water and moisture content in concrete
+ Freezing, thawing, changes in humidity and environmental conditions.
Anti-Chemical, effective in all types of soil and water - to protect structures from attack by salt or sulphate.
+ Preprufe 300R - Products used to protect the bottom of the tunnel, go up the concrete lining, resistant to impacts during construction and placement of concrete reinforcement.
+ Preprufe 160R - Products for vertical wall of the tunnel, swimming ... and order based formwork or wall to keep the land.
+ Preprufe Tape LT - Used to handle specific cut membranes, joints, hole ... (constructed in the temperature range: -4 ~ 300C)
HC + Preprufe Tape - like Preprufe LT Tape, used for hot weather (at least 10 ° C).
+ Liquid membrane - used to cut the film details in the column, pilework ...
- Preprufe 300R & 160R membranes are spread on the ground can be prepared concrete or soil, sand, stone roller compacted, with the vertical planes based membranes can be placed back into form. Concrete can then be poured directly onto the surface of the membrane adhesion. Adhesion layer of special adhesive membrane will slowly and completely into the tunnel structure.
- For open tunnel construction and have space construction for basement walls, can use Bituthene 3000 membrane waterproofing basement walls for maintaining the ability to completely cover the cost of supplies.
- Preprufe membrane can also be used in waterproofing of the tunnel, but not so highly effective.
Underground waterproofing material